21 Jul

The Willows Connection 2021

I hope you have been making the most of the dry weather and we have 2 exciting opportunities to connect outdoors this Friday:   come to Joanne & Andy West's home (23211 St. Andrews Ave) 6-8pm for a S'more Social in Fort Langley (kids welcome), or join us for Youth Group at Passive Park Disc Golf course – your own discs if you have them 7-8:30.   (Also Save the Date for a HotDog Roast Friday Aug. 13th at Campbell Valley Park 5-8pm) Enjoy your social gatherings, reconnecting with old Willows friends and meeting new ones!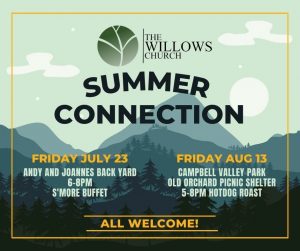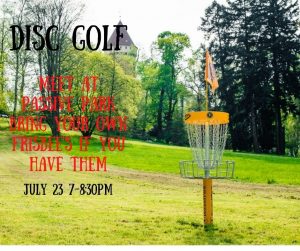 It is such an enormous blessing to be able to gather together on Sunday mornings for worship now!  We look forward to seeing more of you as the summer progresses, 10AM – Sunday School included for age 3-10.  Cadet Matthew Rideout is preaching through a series on the fruit of the spirit and this week is all about patience – who couldn't use more of that?

On Sunday we welcome our "Camp at Home VBS" team to The Willows for an exciting week of ministry!  Day Camp is 9am-3pm July 26th-30th – share the link and invite your friends! Only 7 spots left, registration closes Sunday night ($25 per child per week) registration form is available here:  Camp Registration Form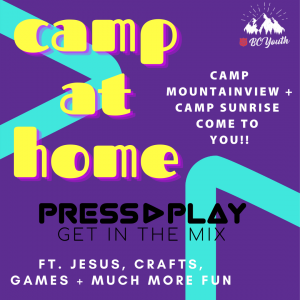 Did you know we are hosting a "Christmas in July" Giving Tree this week for those who can contribute a gift card towards groceries or other basic needs to help local families.  Bring donations on Sunday July 25th!   We'll even have a tree set up for you!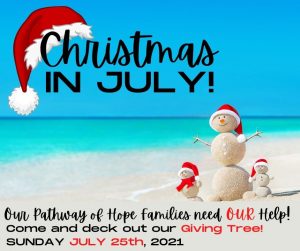 We will also continue to host our Worship Service Video pre-recorded each week on  The Willows Church Salvation Army Youtube  click the link and you will find the latest church service here.  We are not yet equipped to livestream the service directly.
Zoom Church – connect in to get a view from the media laptop at our 10am live service – we do our best, but it did get forgotten last week – apologies for that!  We will try to do better!  https://salvationarmycanandber.zoom.us/j/94032958336?pwd=RWhNeEkwWVAzKzNxWktOc3daWUxCUT09
Adult Discipleship
ESL Class – The Gospel according to LUKE  Thursdays 7pm with Renee        https://salvationarmycanandber.zoom.us/j/96656542075?pwd=ejZFVWN4OUJNUFN4dTZ2aXZrQXU1dz09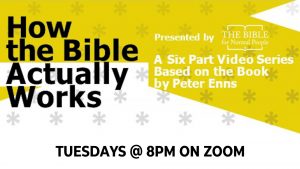 Do you have questions about the Bible?  Join our Tuesday nights 8pm Life Group NEW SUMMER STUDY (6 weeks) with Cadet Matthew Rideout called "How the Bible Actually Works" based on the book written by Pete Enns – it is ancient, ambiguous and diverse!   https://salvationarmycanandber.zoom.us/j/91549266451?pwd=TEhXNHdSUVg3NzRUTXdaTU93dU93dz09
Children & Youth Ministry

Click on the links below for a new online experience video lesson each week! 
First Look (online experience for kids ages 3& up)  Preschool Video July 25
252 Kids Online Experience (Gr 1& up) Elementary Video July 25
A three session XP3 Teen class with Sam on Wednesdays 7pm IN-PERSON this summer wraps up August 11th.

 Summer Youth Events Schedule Key Dates Below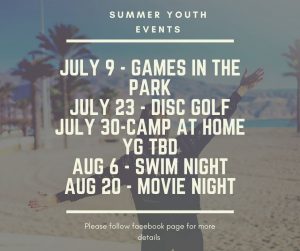 Congratulations to Tom & Peggy Iwama who welcomed twin grandbabies the other week!   And also Alice & Arnie Bannerman have journeyed to Ontario to celebrate the birth of their newest great-grandchild.  While we are eagerly waiting for the arrival of Judith & Saul Carcamo's little one expected this September and we want to save the date for a church baby shower Sunday Aug.29th, we will be able to host it here at the church in the afternoon following the service.  Pop that on your calendar!
Pastors Dave & Renee McFadden