23 Jun

The Willows Connection 2022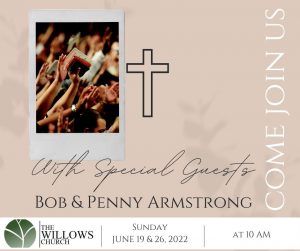 Come join us for worship this Sunday June 26 with special guests Bob and Penny Armstrong at 10:00am.  Dave and Renee will be back this week.
We will be continuing this sermon series in the month of July.  NEW:  You can pick up a copy of Emotionally Healthy Relationships Day by Day Series book ($10.00 Donation) or download it on Audible or Scribd with 40 days of devotional and daily office material.  Follow along with us this summer as we grow our spiritual roots and seek transformation in our emotional lives.
Prayer & Care 
Prayer for those struggling with overcoming addictions, may find the strength and guidance of the Holy Spirit. Also prayer for all those who are Graduating from school who work hard to finish up a milestone and looking ahead to a summer of travel and vacation plans.
Pray for Renee and Dave to a safe return home.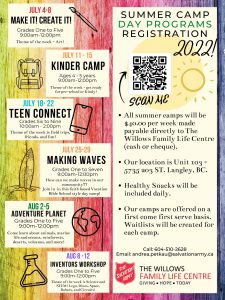 Day Camp Registration is OPEN:
Promo video:  https://fb.watch/d2D29RANBB/    Please click here for our registration form: https://form.jotform.com/211470905557255  Space is still available in our Kinder Camp, Teen Connect and Making Waves Vacation Bible School –  invite a friend!  Adult or teen volunteers are also invited to get in on the fun – email susan.tanaka@salvationarmy.ca

Sunday School – We are hosting one joint class over the summer – if you can't join us in person, click on the links below for a new online Sunday School experience video lesson each week!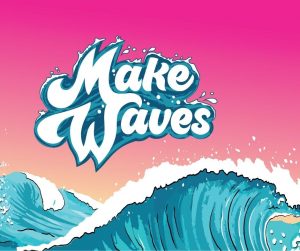 252 Kids Online Experience (Gr 1-4)  Elementary video June 26
The So & So Show So & So Show June 26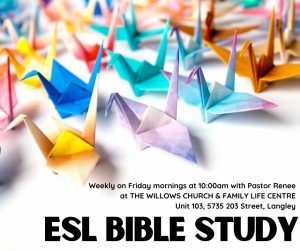 ESL Bible study Fridays 10-11am in person at the Centre continues in June.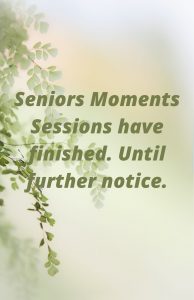 YOUTH Group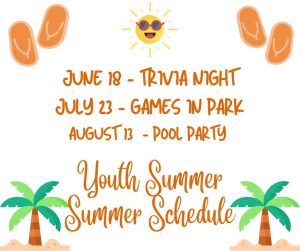 Willows Youth –  Save the date for July 23 Games in the Park and August 13 Pool Party, times TBD.

Family Fun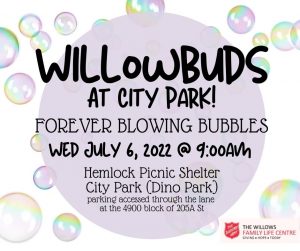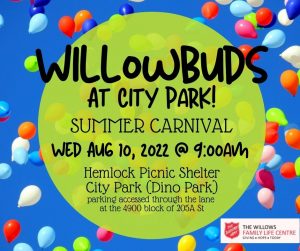 Please join us Wednesday July 6th and August 10th for our Willowbuds event from 9:00am to 12:00pm @ City Park. Drop in for a great time of free play, snacks, craft, and music.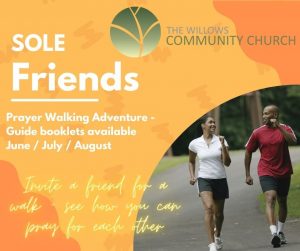 SOLE Friends Prayer Walking Initiative for June, July & August, look for you monthly prayer guide on the welcome table and go for a walk with a friend.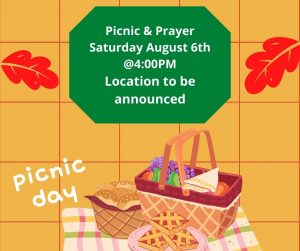 NEW:  Picnic & Prayer, Saturday August 6th @ 4:00pm. Keep tune for more information!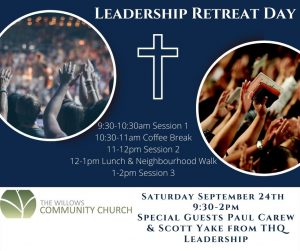 Save the date for our Leadership Retreat Day on Saturday September 24 from 9:30am – 2:00pm.  Like the session we held in March, all lay leaders, staff and volunteers at the Willows along with potential leaders will be invited to this special day with coffee break and lunch included.  Special guests are flying in from Toronto for this important time with us.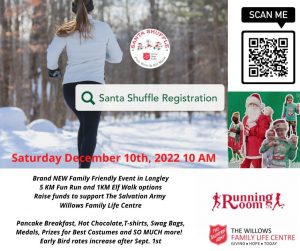 https://www.santashuffle.ca/langley/
Register to join our Santa Shuffle event right here in Langley!  This will be a fundraiser directly for The Willows Family Life Centre to support our many family-friendly programs. We imagine lots of families participating in their matching Christmas PJ's, awards, medals, some pancakes and even a visit with a special someone.  SATURDAY DECEMBER 10th morning.
****
BUT before we get to Christmas – let's go CAMPING!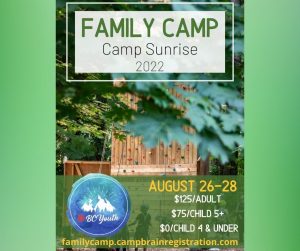 Registration is OPEN for Family Camp Aug. 26-28 https://familycamp.campbrainregistration.com/ 
Registration is OPEN for Golden for Female Identifying Teens Aug. 2-6 is and for Holiday Camp July 18-22 is directly through the ministry unit, subsidies are available, please contact Andrea.petkau@salvationarmy.ca
Registration is OPEN for Junior (Aug. 7-12) and Senior Performing Arts Camp (Aug.15-21)  https://performingarts.campbrainregistration.com/
***
Isaiah 41:10
Fear not, for I am with you; be not dismayed, for I am your God; I will strengthen you, I will help you, I will uphold you with my righteous right hand.